Congratulations to our 2nd graders who made their First Communion last weekend!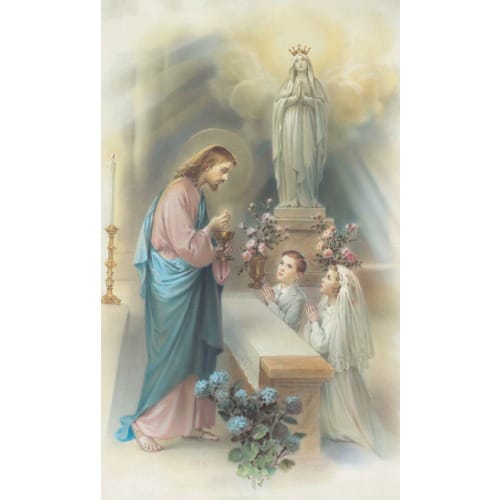 NEWS FROM SCHOOL: 
Spirit Wear Wednesday: Students may wear their spirit wear top with uniform bottoms (shorts, pants or skirt), jeans or Capri pants every Wednesday until the end of the school year!  Please- no yoga or sweatpants and  uniform shorts only.
April 30th: Grade 2 Field trip Reds Museum
May 3rd: National Day of Prayer
May 4th: Sabre Fun Run!! (fundraiser, see info below)
May 9th: Grade 7 retreat Camp Kern.

Leave at 8 am return at 5:30.  Please make arrangements for someone to pick up your child at 5:30 pm.

May 11th: PreK  Field Trip-Parky's Farm; Grade 4/5 Field Trip-Appalachian Folk Festival
May 14th: Spring Concert 7 pm Grades 4-8
May 21st: Field day Grades 6-8 (Contact Mr. Buckley to volunteer. Must be Virtus trained. ) Grade 3 Field Trip
May 22nd: Grade 8 Field Trip to Soccer City
May 22nd: Field Day Grades PreK-5
May 23rd: Graduation

Breakfast 8am-10am
Pictures 5:30 pm
Graduation 7 pm
Celebration 8:30 pm- 1o:3o pm (still needing chaperones for 10:30-12:00)

May 25th: Last day of school for grades K-8.    Dismissal at 11:00 am.  No lunch will be served.  
NEWS FROM PTA:
SABRE FUN RUN!
St Vivian families!
We are about halfway through our Fun Run program!
Just so you know, students have been given a WEEKEND CHALLENGE! If a student receives a total of $2 per lap in new pledges (or $60 in flat donations) over the weekend, they will receive a bonus prize…the JAVELIN CHALLENGE KIT… in addition to their normal prizes!
Visit funrun.com to enter your pledges and be sure to watch the CASTLE QUEST videos with your child too.
Thank you for your support. We appreciate all you do!  Have a great weekend!
*******************************************************
Sabre Fun Run Volunteers
lAST CALL – Volunteers will be needed on the day of the event, Friday, May 4th.  You must be VIRTUS trained to help out.  This will be a very, energetic and fun program to check out and help with.  Sign up here:  http://www.signupgenius.com/go/20f0a44a8af2ca1ff2-sabre
**************************************************************************
***On May 4th, the Sabre Fun Run will likely be outside in the afternoon.  Please be aware that the back parking lot will not be open to pick up kids until close to 2pm.  Please be considerate of those who live on the side streets near St. Vivian and do not block the streets if arriving early for pick up.**
8th Grade Breakfast items sign-up:
Dear Parents,
Here is an invitation to the 8th grade breakfast with a link to the sign-up sheet as to which item you can bring for the breakfast. The link is:
www.signupgenius.com/go/10c044bafaa29a1fa7-8thgrade
Please sign up when you get the chance. We would like each family to bring a breakfast item for the class.
Thank you for your time and attention to this matter.
Michelle Surber
Attention 7th and 8th grade parents-
There is information being sent home TODAY about graduation! Each family in 7th and 8th grade should look over the information and send papers back to school before Friday, May 11th!
 Thank you, PTA Graduation Chairs